PI Cultural Centre 'Semberija' Bijeljina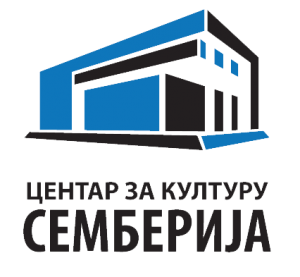 Basic information
Address: Ulica Patrijarha Pavla 1, 76300 Bijeljina
Phone: +387 (0)55 204 202, +387 (0)55 490 307 (Gallery)
Fax: +387 (0)55 209 934
E-mail:
Web site:
www.semberija.com
About PI Cultural Centre 'Semberija'
Public Institution Cultural Centre 'Semberija' Bijeljina was established in 2007 by merging Youth Centre, Cinema and Gallery 'Milenko Atanacković' into one institution.
Most of the programme implemented by the Centre is implemented in the Cultural Centre building which was completed in 2012, and is one of the most beautiful buildings purposely built for the needs of the cultural creativity in Republika Srpska and BaH. The Centre, among other things, hosts a multi-purpose hall for stage contents with 350 seats, with a stage equipped in accordance with the latest standards, the City Gallery, spaces for art, rehearsals, work of youth organisations, press conferences, wedding hall...
The recently renovated City Cinema with the modern 3D technology operates as a part of the Cultural Centre.
The main activities of the Cultural Centre 'Semberija' Bijeljina are: theatre, cinema, gallery, and education.