JSC Vodovod i kanalizacija (Water supply and sewerage)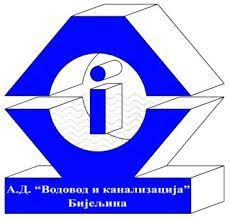 Basic information
Address: Ulica Hajduk Stanka 20. 76300 Bijeljina
Phone: +387 (0)55 226 460 (switchboard)
Fax: +387 (0)55 210 751
E-mail:
[email protected]
Web site:
www.bnvodovod.com
About Vodovod i kanalizacija
JSC 'Vodovod i kanalizacija' Bijeljina was detached from the communal organisation '4. jul' and commenced operation as the Public Enterprise 'Vodovod i kanalizacija' on 31 July 1991 with the main activity of exploitation, treatment and distribution of water.
The company went through several ownership transformations since then, and on 29 December 1999 a Decision on transformation of a basic state-owned enterprise into a joint stock company was made. This was a beginning of a transformation process into a joint stock company.
The company has been operating under the name Akcionarsko društvo 'Vodovod i kanalizacija' Bijeljina (Joint Stock Company 'Water supply and sewerage' Bijeljina).
Today, JSC 'Vodovod i kanalizacija' Bijeljina operates as a modern company with a constant tendency towards development and expansion of its main activity. After completion of the privatisation process, the structure of the company's stock capital looks like this:
Municipality of Bijeljina – 65%
JSC PREF RS Banja Luka – 10%
JSC Fund for restitution of RS Banja Luka – 5%
Other stockholders – 20%
In recent years, the number of employees, especially those with higher education, has increased, which, as a result, increased the quality, professionalism and expertise of operation to a higher level. With the last increase of capital stock, it is now
BAM 10,009,225.00
. In
1992
the water supply system supplied water to approximately
30,000
inhabitants. However, the company managed to build a system which now supplies water to three times more inhabitants using only their own staff and available resources.
Company's vision
To be a successful company in the region in relation to the quality of service in water supply, drainage and wastewater treatment.
Company's mission
Optimum production, uninterrupted and rational distribution of healthy drinkable water to the end users, with drainage and wastewater treatment in accordance with the highest standards of environmental protection, investments into the development of the water supply system and the public wastewater drainage system, all with an objective to satisfy the needs and expectations of interested parties and positive contribution to the community.