Public Institution Kindergarten 'Čika Jova Zmaj' Bijeljina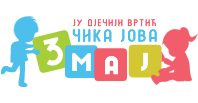 Basic information
Address: Ulica Svetog Save 9, 76300 Bijeljina
Phone: +387 (0)55 204 808
Fax: +387 (0)55 201 233
E-mail:
[email protected]
Web site:
www.cikajovazmaj.net
About Kindergarten 'Čika Jova Zmaj'
Working with preschool children started in 1931 in Semberija. Work programme was implemented by mother and daughter Hingl. Organised type of preschool education started in 1951 with half day stay in the building next to the city cinema, and in 1977 the preschool children of Semberija got a new modern building in the centre of Bijeljina.
Currently, the kindergarten has six buildings, three in the city, and three in villages (Dvorovi, Novo Naselje Janja, and Patkovača), and children are divided into 18 education groups, having around 500 preschool children in total.
In cooperation with the Ministry of Education and Culture, DUBAI CARES, UNICEF, a three-month programme is organised in the year before starting school (1 March – 31 May), which included 47 groups with 1170 children from 2011 to 2015.
The project "Kindergarten for every child", in cooperation with the Administration of the City of Bijeljina and UNICEF, included 100 children from vulnerable groups (Roma, displaced people, returnees, and children from socially vulnerable families). This marked Bijeljina as a city in which the number of children attending preschool education has been significantly increased.
Apart from parent meetings, Parents Council, creative workshops and everyday contacts with the parents, a special quality to the partnership with the family is given through workshops for parents "Let's grow up together", led by the team of certified leaders, in cooperation with IN Foundation and UNICEF. The workshops last for three months, two hours per week, and their goal is to improve parental skills.
Our children participated in Theatre games in Šabac, Children's folklore festival in Cetinje, Children's friendship colony in Banja Luka, Sombor, Šabac and Cetinje, and in June 2012, the Kindergarten was the host of the Colony.
For years now, the children of middle and older kindergarten groups have been attending English language beginner's course.
Educators show their creativity through making teaching aids and toys, participation in the Competition of the Ministry of Education and Culture for the best teaching aid. From 2012 to 2015, they won more than ten awards.
Apart from great cooperation with the Administration of the City of Bijeljina and the Department of Social Affairs, the Kindergarten works closely with the Social Welfare Centre, Public fund for children's protection, Association Otaharin, National library Filip Višnjić, Museum of Semberija, PI Cultural Centre Semberija, Pošte Srpske (Enterprise for postal traffic of the Republic of Srpska), Semberske novine (Newspaper of Semberija), and all media companies in Bijeljina.
Children and educators from PI Kindergarten Čika Jova Zmaj participate in numerous events: City Day
,
Day of Older Persons
,
Children's Week, April – month of cleanliness, May festival of fine arts, Babies conference... Also, the Kindergarten organises plays for parents to commemorate Autumn Festivities, 8
th
March, New Year and Christmas, Vrbica (Lazarus Saturday), etc.