Exhibition "Cities and villages of the future" at the gallery of the Cultural Centre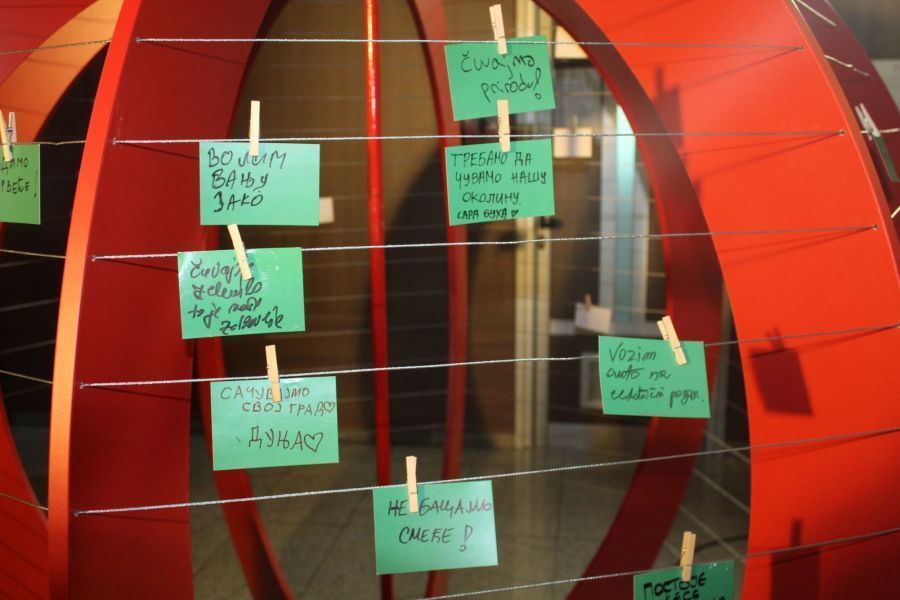 ​Many inhabitants of Trebinje and Bijeljina took part in the exciting event "Cities and villages of the future", where they learned about various contents through an interactive exhibition and educational lectures about sustainable development and European future of Bosnia and Herzegovina.
This event, as well as others which will be organised in Sarajevo, Zenica and Bihać, is a part of the project EU4BusinessRecovery. Various activities were presented, which promote different activities, smart agriculture, IT and digitalization, efficient use of resources, circular economy, youth and agriculture.
Željka Vidović from the EU4BusinessRecovery project said that this project provides financial and technical support for the development of agricultural and food sector.
"Today, we also presented a public call for awarding grants in the amount of one million convertible marks. These funds will be used to support accelerated process of digitalization of primary agricultural production of companies, through optimization of business activities and investments in tools and technologies contributing to digitalization,"
said Željka Vidović.
The public call is open for craftsmen, independent entrepreneurs, agricultural cooperatives, micro, small and medium sized enterprises engaged in primary production of fruit, vegetables, seeds, meat, milk, eggs, crops, mushrooms, medicinal herbs and spices, beekeeping, grape-growing and olive-growing. The support amounts to BAM 15,000 to 300,000 per application and can be used only to fund procurement of equipment, machinery, tools, communication devices, hardware and software for the control, monitoring, management and supervision of production processes.
EU4BusinessRecovery project is funded by the European Union and the Federal Republic of Germany, and implemented by the United Nations Development Programme (UNDP) in BaH, in cooperation with the German Agency for International Cooperation (GIZ) and International Labour Organization (ILO).
"It is our honour that Bijeljina is one of five local communities to host this exhibition which will contribute to better understanding of sustainable development goals and the benefits of their achievement, while the citizens and enterprises can learn the ways in which they can contribute to the sustainable development,"
said Ankica Todorović, head of the Section for Local Economic Development and European Integration, and reminded that Bijeljina is the leader in BaH when it comes to the application of the sustainable development goals which the city has been promoting for six years.
More information on the project can be obtained from the EU4BusinessRecovery project communications associate Kemal Nedžibović, at
[email protected]
.